Vimeo
Text
The Brief for Tecno Mobile
As part of their partnership rights, Tecno Mobile, Africa's largest mobile phone manufacturer, had an opportunity to create a global television commercial using three Manchester City football stars. The aim was to create a commercial that focused on the new technology in the phone's front facing camera, offering 24 megapixel selfie opportunities.
Creating a globe (and space) trotting campaign within such a short window of time was a challenging element. As a specialist creative agency used to working with short time frames and star talent, we set about solving the problem.
Text and Visual
Our campaign, called Clearly Better, imagined a selfie competition between the three players. The three Man City stars would compete to take the best selfie on their Camon X Pro phones. Starting off as a simple joke, it would become increasingly extreme as one player always had to outdo his friends.
After much deliberation, we settled on an ambitious list of locations. The film would start in a restaurant, move to a race track, then an aeroplane, before heading to the international space station.
But how to shoot such an ambitious commercial in such a short window of time?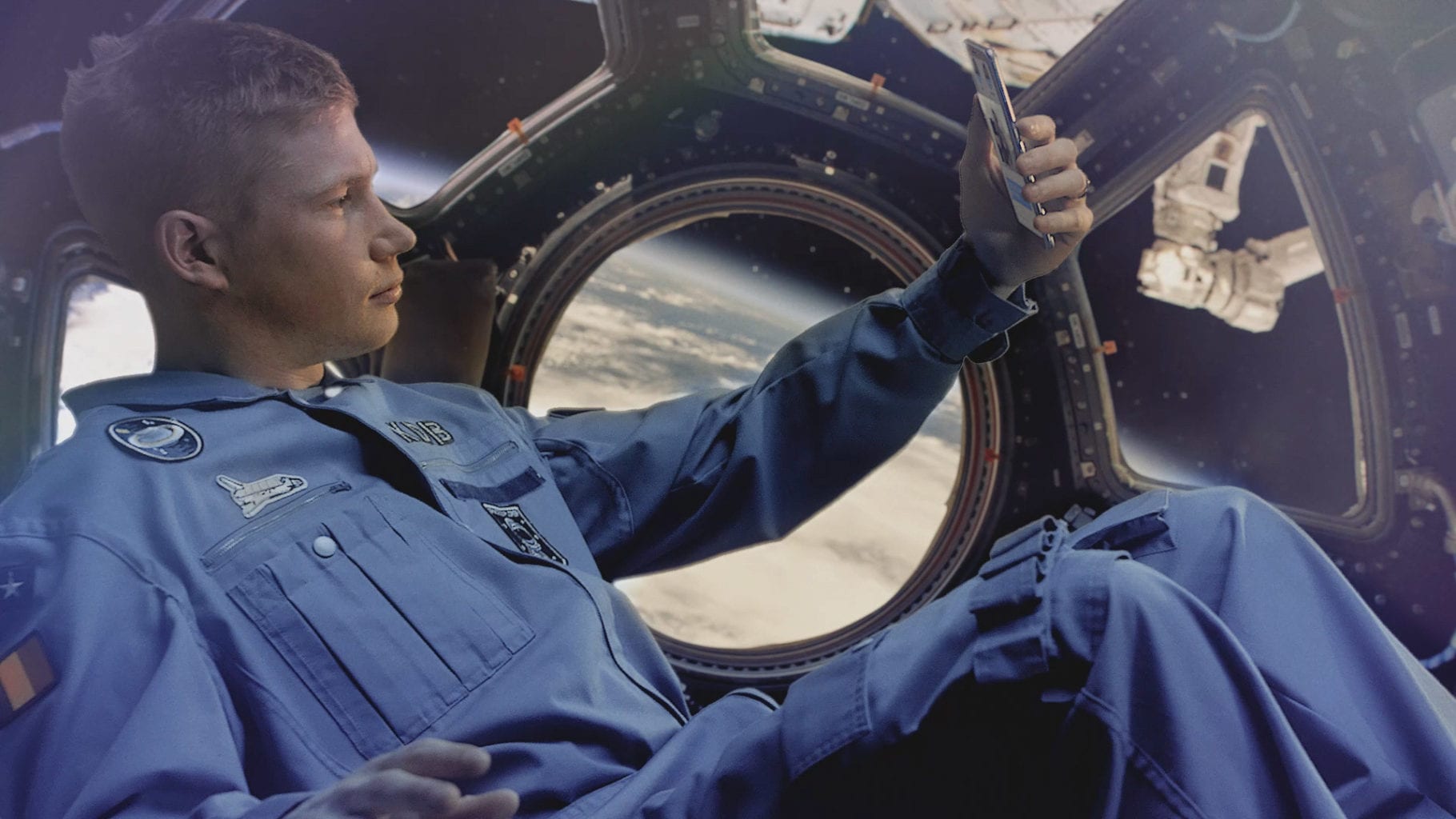 Subtitle
Text
With a project as complex and ambitious as this TV commercial, RD Content and TECNO Mobile collaborated for three months devising the creative.
We needed to showcase each of the fantastic photo and selfie-taking features of the new Camon X and Camon X Pro; to celebrate the partnership between TECNO Mobile and Manchester City; to utilise three Manchester City stars and all the while tell a story that was engaging, shareable, and with a universal appeal.
Text and Visual
On top of this, the creative had to be achieved within the one hour window of opportunity available to the players.
The commercial needed to work as both a 60 second and 30 second version and had to feature the players physically handling the phone and taking pictures of themselves.
Text and Visual
Having secured one of the largest studios in the North of England (conveniently only a five minute drive from Manchester City's training facility) we set about planning each of the different areas required for completion. This included building the facade of a restaurant; erecting five different green screen areas, dressing the corridor of the studio as if it were part of Manchester City's Etihad Stadium; bringing a working restaurant kitchen to life and, of course, working out how to bring the front portion of a jumbo jet into the studio.
Visual
Text and Visual
Everything had to run smoothly when the players arrived so, after two days of dress rehearsals, timing every shot down to the last second, the crew were confidently running the shoot like a military operation.
After months of storyboarding and scripting, and weeks of meticulously planning every last detail of the film; the anticipation, excitement and nervousness of the players' arrival was felt by the whole crew.
Then, just like that, the players arrived and it was lights, camera, action!
Text
"The Tecno Mobile shoot presented a number of technical challenges. Shooting in one studio to represent a number of real world locations meant creating lots of different looks against a green screen, the most challenging being the space station set. What's more, the players' busy schedules meant shooting with all three at once over a short one hour period. We needed to know we could get it right, so we rehearsed the action numerous times with three units simultaneously shooting doubles."
Paul O Callaghan DOP
Text and Visual
The most ambitious part of the project involved transporting the nose of a jumbo jet into the studio. It had to be wheeled in through a large set of hangar doors and was an operation that took 20 crew members to oversee and the entire back end of the studio space had to remain clear to make room for it.
Visual
Text
It was important to open the film with a sense of realism, so it was decided early on that we would construct a restaurant set for our opening scene. We wanted to do this properly, so completed and dressed the restaurant with high end furnishings to make the scene completely believable, while kitchen staff prepared real gourmet dishes. From the extras in the background to the artwork on the walls, this multitude of small but crucial touches ensured the scene felt premium and convincing.
Visual
Text and Visual
Nicolas took the selfie competition to the next level with a classic car. The Jaguar was added in post production so it required some strong acting skills to capture that perfect selfie.
Working with green screen is a difficult task for any actor. It requires good imagination and spatial awareness. Using a real car in the foreground of this set not only brought the scene to life, but also helped Gabriel imagine he was indeed on a race track.
Text and Visual
The space scene in particular was great fun to produce. By placing Kevin on a rotating chair and setting up a lighting rig that replicated the sun's rays from space, we were able to create a scene that undoubtedly appeared as though he was actually in orbit.